It's 2020, the world is on lock down, and all around the country degree shows are being cancelled due to COVID-19. Graduating creatives have to find other ways to showcase their work and we've put together a Nationwide Degree Show to help.
We launched The Nationwide Degree Show in lieu of all the student shows in 2020 to ensure that industry professionals still get to see all of the groundbreaking work that is being produced. The aim? Working together to keep the creative industries buzzing and full of fresh, young creativity and talent.
We partnered with the amazing Ocean Outdoor, who gave us almost £100k's worth of billboard space across the country.

We began reaching out to students across the UK to submit work. We spoke to universities, online communities and students to spread the message. Our submissions were open to any art or design students graduating in 2020. The submission form was live for 10 days, and we received over 1000 submissions from over 100 universities spanning 17 disciplines from all 4 countries in the UK.
46 students were selected in total to have their work featured on the billboards. Our selections were based on the following criteria:
1. Does the submission explore a topic or craft in a way we hadn't seen before?
2. Would the work 'WOW' on a billboard?
And once we had a long list, to get to the short list:
3. Does this selection demonstrate a good spread of talent from across multiple industries.
The billboards were in London, Glasgow, Manchester and Bristol.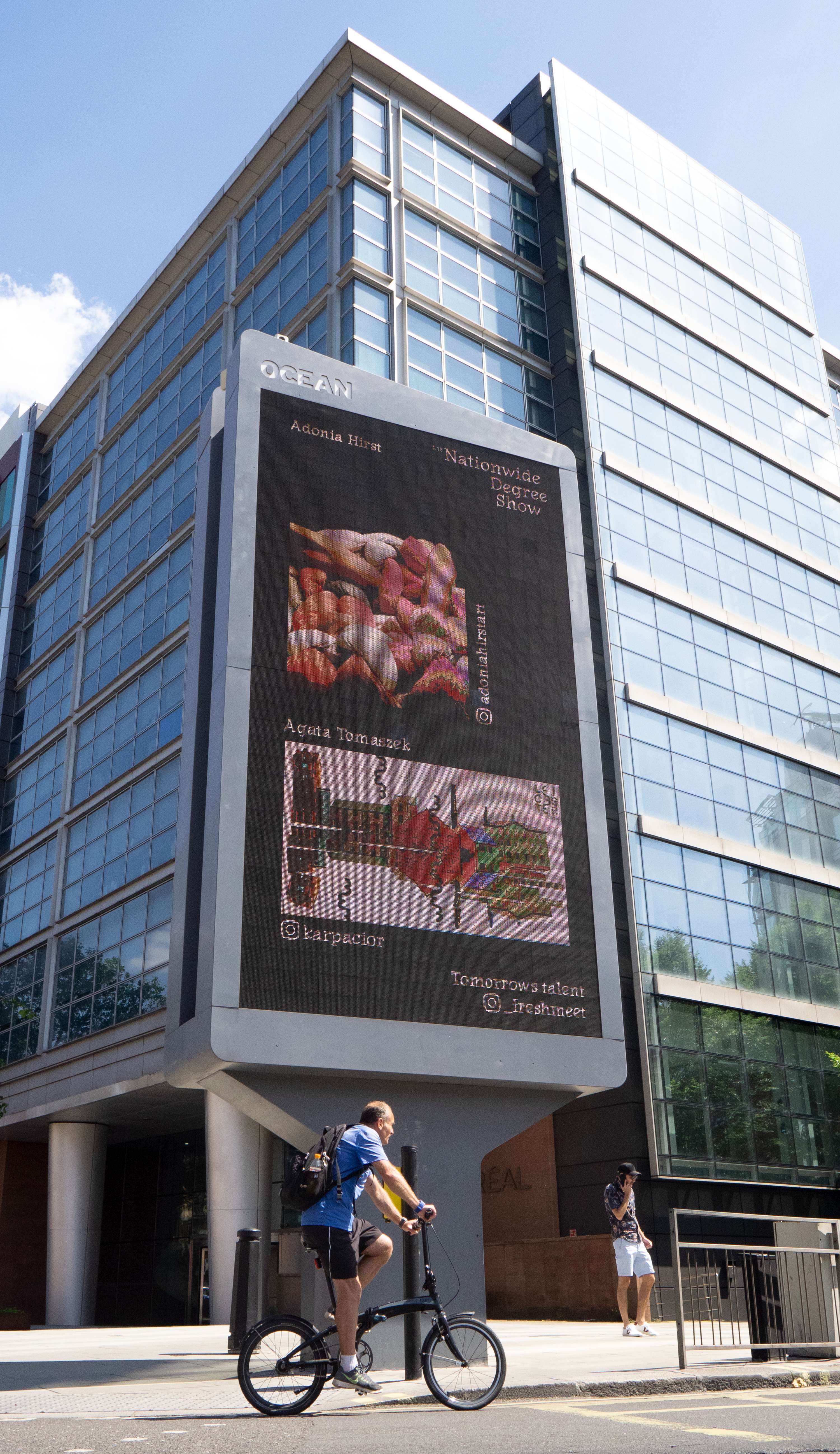 But the Nationwide Degree Show didn't stop there. We wanted to find more ways to get the student work that we'd collected in front of the eyes of the industry.
We created 'The Curations': Industry leaders, creative pioneers and trendsetters in various differing roles across industry to choose their 5-15 favourite pieces submitted to the Nationwide Degree Show. To level the playing field and help break down the system of feeder-universities that supply the industry we anonymised all of the entries – removing names, universities and disciplines. The work was judged purely by image and description alone.
All of these partnerships can be viewed on the Dots, with links promoting the students work.